Premium Joust Seating - $10 (per person)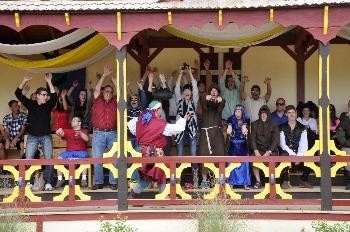 Get the best view of the joust tournament action! Cheer on your knight from the covered seating and enjoy a meet and greet with knights after the show including a backstage tour. Purchase tickets for only $10 at the orange Special Events Ticket Booth between the joust and the Aleing Knight Pub. (Premium Joust Seating is handicap accessible.) The premium ticket includes:
Seating under the covered viewing stand
Seat cushion
Your choice of a refreshing bottle of water, Coca-Cola, Diet Coke, or Mello Yellow
Pennant to cheer your knight to victory
Meet and greet with your knight after the tournament including a backstage tour! Be sure to get an autograph on your pennant!
Open House Mead Tasting at the 3 Fools Pub - $15 Flight or $2 Per Taste
Come to the 3 Fools Pub between noon and 2pm daily. Receive a flight of five Mead samples with a full glass of your favorite at the end. Tickets can be purchased at the 3 Fools Pub at time of tasting.
The Naughty Bawdy Pub Show at The Dirty Duchess - $15 (per person)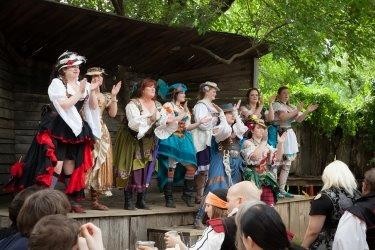 An hour of the songs, jokes, and limericks that can't be heard on the streets! An event for ages 21 and over hosted by Axel the Sot and the Sirens. Purchase tickets at the 3 Fools Pub. Ticket includes: two beers, ciders, or wine cocktails (Budweiser, Bud Light, Michelob Ultra, Wine Cocktail, Guinness Pub Cans, Woodchuck Hard Cider), a commemorative pin, and loads of fun! Cigars are available for purchase during the show. Water or Coca-Cola products substituted upon request. (Photo courtesy of Cliff Moore.)