DO YOU LOVE THE OHIO RENAISSANCE FESTIVAL?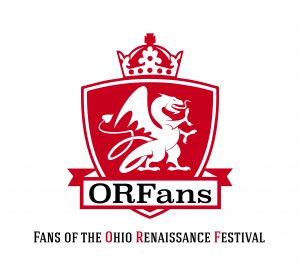 Become an ORFan and enjoy exclusive benefits, recognition and meet a variety of people who share their love for the Ohio Renaissance Festival.
For a membership fee of $130 an ORFan will receive:
Unlimited admission to the Ohio Renaissance Festival for the current season
Your very own relaxation station with shade, seating, and drinks (water/PowerAde) with Privies conveniently located just next door
A commemorative ORFans pin
ORFans photo badge for entry through the Front Gate
Free parking by showing your ORFans badge
Exclusive weekly discounts throughout the Festival including ticket specials and souvenirs
Discounted tickets available through e-mail reservation to ORFans@renfestival.com – Adults (ages 13+) $18 and Child (ages 5-12) $7. Requests must be made by Wednesday at noon prior to the weekend.
Classes taught by Street Cast and Guild Leaders covering language, costuming, dancing, and character development offered off-season
Walk in the Parade under the ORFans banner
Contact ORFans@renfestival.com to upgrade your Season Pass to an ORFan membership today!
---
How do I become an ORFan?
Coming Soon! Order your ORFans membership online and send us a head shot in jpeg format to ORFans@renfestival.com. We'll have your ORFan badge ready to go!
Or, fill out the form below to register. Be certain to submit a head shot in one of the requested file types for your ORFans badge. We'll be in touch to collect payment details and answer any questions.
Thank you for your love of the Ohio Renaissance Festival!