14 Stages of Thrilling Action, Comedy, Music, and Song
Check out all of the thrilling, funny, magical and amazing acts. Check the Front Gate Marquee as you enter for special guests and activities.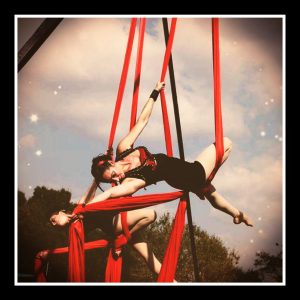 Don't miss this jaw-dropping, elegant cirque-style aerial spectacle.
Christophe the Insultor is back! Hire this silver-tongued vulgarian to roast your friends or, if you have no friends, laugh your lonely *** off watching him roast strangers. Smart people: revel in the schadenfreude!  Vulgar people: delight at the filth! Dumb people: laugh because everyone else is laughing! Rated "R" for "Really don't bring your kids here."
Theatre in the Ground presents classic literary tales in the shire's only Olympic-sized Muditorium. Get your front row seat for Beowulf, Dante's Inferno, and the muddiest show of them all, The Viking Show.
Dirk and Guido will teach you the art of being a gentleman while using their sharp rapiers and even sharper wit. Children of ages will enjoy their comedic swordplay. (The Swordsmen do not perform Family & Friends Weekend, September 1 – 3.)
The Knights of Valour deliver hard hits and thrilling action in three jousts each day.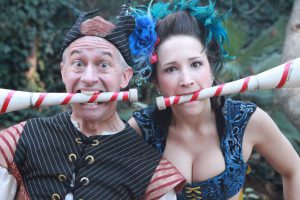 The Kamikaze Fireflies offer an exciting mix of comedy and circus. Children of all ages will enjoy their many tricks never seen anywhere else including juggling, hula hoops, german wheel, and whip cracking.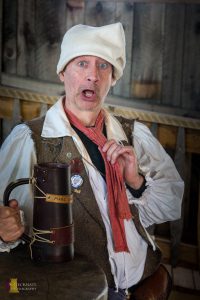 Axel the Sot is the ORIGINAL Drunken Sailor armed with a salty smile, quick wit, charisma and. . .charm.
Bawdy, Bo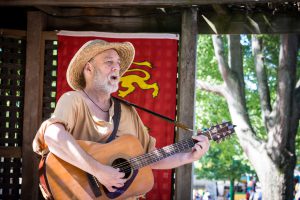 dacious, Bothersome, Brown Bohemian Brethren…Thou may call him Friar BBBBBB. Sing along with the Friar's fun songs in the village pubs or listen in the streets.
Enjoy beautiful music from these lovely ladies but they're not above singing a few tunes to bring a blush to your cheek!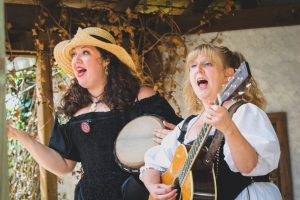 Listen to the hauntingly romantic music of the Glass Harmonica.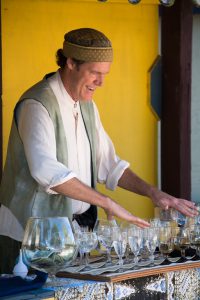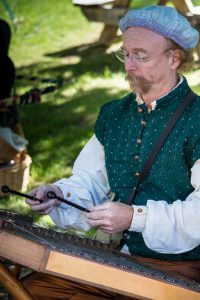 Performing around the village, enjoy this talented hammered dulcimer playing a wide variety of songs.
Tisa McGraw, The Harp Lady
Enjoy the melodies of the harp and hurdy gurdy to sweeten your travels throughout the village.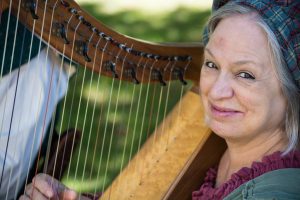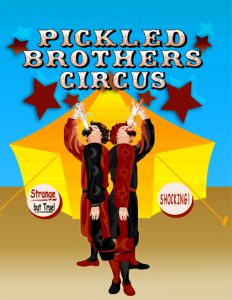 Vaudevillian style variety show, fun for all ages.  Fire-eating, sword swallowing, bed of nails, bullwhip artistry, juggling and many other amazing feats of skill.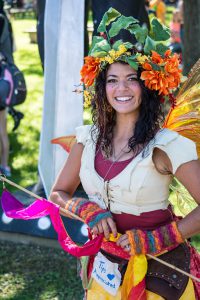 Visit with Spark in the lanes, get sparkling fairy hair, and have a dance to the music of her Dragon's Egg drum.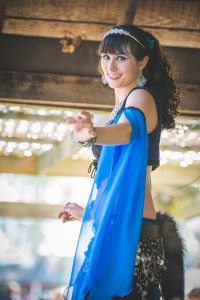 Watch in wonder as rambling rhythms are created with dancing and drumming.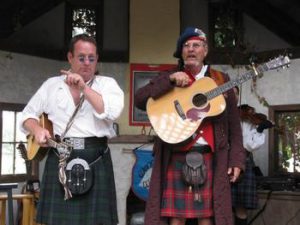 Father, son, and a handful of friends share loud, rowdy drinking songs, mixed with bagpipes, whistles and all sorts of ornery.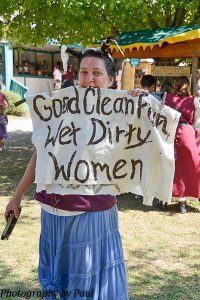 Fun-filled show for all ages, these wenches are just a little bit bawdy, a whole lotta brazen, and they love to pull you into their show!
The Da Vinci Bros Comedy Operas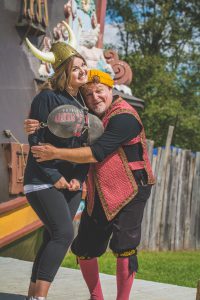 Bob Da Vinci (The lesser known brother of Leonardo.) uses the audience to become the orchestra and sound effects, and together renditions of classic tales, Go Figaro and Don Chipotle, are acted out together.
Oops! Comedy Knife Throwing
A show full of laughs and amazing feats for all ages.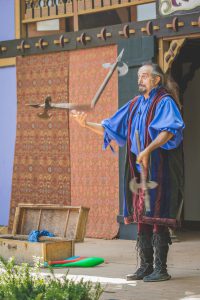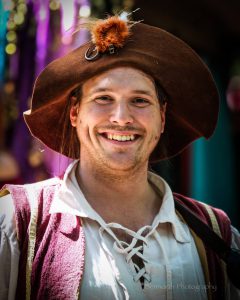 Funny, charming, and always singing with a smile, find Dylan on the streets with his guitar ready to sing you a song on the spot.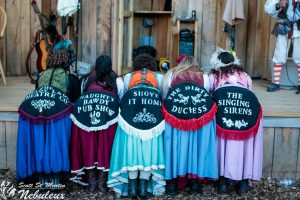 The Shady Lady Theatre Company presents The Singing Sirens. Enjoy tantalizing tidbits of saucy songs and spicy comedy. These beauties are rated PG until the Naughty Bawdy Pub Show where anything goes!
Carnivale performs Family & Friends Weekend, September 1 – 3.
Albannach performs Highland Weekend, October 6 & 7.