Enjoy dozens of savory offerings at the Ohio Renaissance Festival!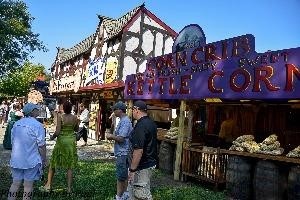 Gluten Free items marked G. Vegitarian food choices marked V.
New this year!

Crepes
Sweet filled light pastries.
The Chocolate Raven
Handmade chocolates and fudge
KJ's Cajun Cuisine
Authentic cuisine from across the pond down-south
Archibald Drake's
Fish & Chips
Jerusalem Cafe
Authentic Middle Eastern cuisine including (GF) Jerusalem Mix, Wraps, (GF) Chicken Shawarma, (GFV) Falafel, (GFV) Hummus, (GFV) Stuffed Grape Leaves, Turkish Coffee, Baklava, (GF) Kabobs
Garden of Eatin
Gourmet 8 oz Burgers, Fresh cut potato fries served plain or loaded.
Marco Polo's Bistro
Street Tacos
The Queen's Cream
Premium Soft Serve Ice Cream
 1572 Roadhouse Bar-B-Q & 3 Fools Pub
(G) Pulled Pork Sandwich or Platter, (G) Smoked Chicken Sandwich or Platter, Smoked Sausage or Platter, (V) Cole Slaw, Baked Beans, (V) Mac & Cheese, (V) Peach Cobbler, (V) Blackberry Cobbler  
Earl of Corn
(VG) Fresh Roasted Corn on the Cob
King's Nuts
(V) Almonds, (V) Cashews, (V) Pecans, Caramel Apples (with Nuts or Candy) and Lemonade
Aleing Knight Pub
(G) King's Weinie, Chicken or Beef Fajita Wraps, Haggis, Fingers & Tots, Tots Plain or Smothered, Fried Mushrooms, Onion Petals, Scotch Eggs, Spicy Fried Greenbeans, Fried Cheddar Cheese Curds, Stuffed Jalapenos, Strawberry Shortcake, Cheesecake
DaVinci's Pizza
Cheese or Pepperoni Pizza by the Slice or by the Pie, Celtic Potato Pizza (Gluten Free crust available.)
Bread Bowl
Mac & Cheese, Beef Stew, Potato Soup, Broccoli Cheese or Soup of the Day
The Pleasant Peasant
(G) Turkey Legs, Bratwurst, 1/2 Pound Hot Dogs, (V) Impossible Burger, Waffle Cone Chicken, Grilled Chicken Sandwich, (VG) Baked Potato, (VG) Garlic Roasted Mushrooms, Fries, Onion Rings, Brownie Sundae, Apple Dumpling, Rainbow Cake, Cheesecake
Rose & Crown
(G) Turkey Legs, Chicken Fingers & Fries, Pot Roast Sundae, (V) Mac & Cheese Cupcakes, Loaded Fries, Steak Sandwich, Steak on a Stake, Teriyaki Salmon Sandwich, Apple Dumpling, Belgian Waffle Sundae
Pickle Cart
Seasoned Dill Pickles
Jerky Cart
Seasoned Beef Jerky
Bourbon Chicken
Fresh grilled chicken covered in bourbon sauce and served on a bed of rice with gassy beans
The Corn Crib
Fresh roasted kettle corn
Jack Frost's Ice Shack
Shaved Ice (Sugar Free Syrups Available), Pineapple Dole Whip, Frozen Treats
Fat Friar's
(V) Funnel Cakes with Sugar or Fruit Topping, Fried Twinkies, Fried Snickers, Fried Buckeyes, Fried Reese Cups
Thirst Quenching Beverages
Coca-Cola, Diet Coke, Coca-Cola Zero, Sprite, Root Beer, Powerade, Water, Coffee, Teas, Monster Energy Drinks Ballast Wench, Beringer Red, Beringer White, Brother's Drake Mead, Budweiser, Bud Light, Cocktails, Coney Island Assortment, The Dirty Wench (Rum Punch), Erdinger Heffe, Guinness, Guinness Blonde, Harp, Hofbrau Original, Little Kings, Lost Coast Tangerine, Margaritas, Mary's Revenge (Bloody Mary), Michelob Ultra, Michelob Amber Bock, Modelo Especial, Moscato, Old Smokey Tennessee Moonshine Cocktails, Pina Coladas, Red Stripe, Sam Adams 76, Sangria Slushies, Shiner Bock, Smithwicks, Strawberry Daquiris, Tafts Gaelic Ale, Tafts Nellies, Valley Vineyards Mead, Victory Summer Love, Woodchuck Hard Cider Assortment, Yuengling Light
Interested in becoming a Food Vendor at the Ohio Renaissance Festival?
Download and complete the forms below: